Question:
What do you get when you put the rear of a Heckflosse Coupé onto a Heckflosse sedan?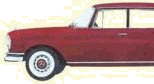 Answer:
A car that looks like this....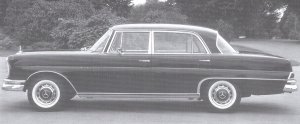 Although this car looks very elegant it never made production. You might say that it looks a bit like a W108 or W109. Note that the car has got the 300SE chrome trim on one side and not on the other. The rear looks very much like a Coupé, already having the same rearlights but lacking the same bumper. Looking this way, the car would have to loose its nickname unfortunately.


Do you want a Heckflosse with extra luggage-space?
How about this? This 200 has been build by Miesen.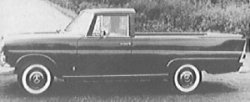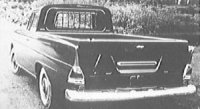 Although the white-wall tyres make the car look elegant, it's clear to see that the line of the car doesn't really follow the Flossen. Who, might you wonder, wanted such a car? The car is RHD so perhaps a Australian customers ordered this car. He had to be wealthy because the car didn't came cheap.

The pick-up to cold for you?
Then the 'Benulux Special', an IMA Universal with blinded windows, is your answer to the luggage problem.